Jolena (Jo) Ware and Lisa Freeman, One Call Concepts (OCC) ITIC Coordinators for Gopher State One Call (GSOC), work together to aid ITIC users throughout Minnesota. Jo is the ITIC Coordinator who travels throughout the state to provide excavators and facility operators with ITIC online ticket process training. She also attends different industry conferences and events to educate users on ITIC. Jo schedules onsite training for excavators, facility operators, and/or locators. When in the office, she assists in training the ITIC priority team, processing tickets, answering questions, and helping with the ITIC Help Desk chats. Jo also works with the OCC Systems Division to implement and test new software functions and features that are in the development stage.

Jo began her career in the one call industry in 2007 with OCC as a CSR at the GSOC notification center and within the year, she moved to Quality Control. During this time, Jo also helped in the Help Desk position and was later assigned a Supervisor role. She worked as a home agent for some time before being promoted to her current position as traveling ITIC Coordinator.
---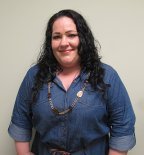 Lisa is the in-house ITIC Coordinator. She creates, updates, and maintains all the ITIC procedures for the GSOC Customer Service Representatives (CSRs) and keeps them informed when changes are being made to the system, in addition to processing tickets and monitoring the entire ITIC priority team. Lisa aids with data collection of the most frequent mistakes that users make when filing online tickets and uses that information to provide feedback to the user and to GSOC, among other responsibilities to help improve the ITIC process for users. She helps to answer ITIC Help Desk questions, responds to inquires via the ITIC help email, as well as answer online chat questions during business hours. Lisa also troubleshoots any issues that excavators or Facility Operators have, such as clearing their cookies, cache, and temporary internet files and walks them through the ticket submission process to identify problems.
Lisa was hired by OCC in 2002 to process tickets from Texas, and within a few months, she was moved to the TX/MN fax department to enter tickets that customers submitted via fax. In 2003, Lisa was promoted to the Assistant Trainer, then moved to the Quality Control Department, was promoted to the Trainer and to Supervisor a few years later, and then to her recent position as the in-house ITIC Coordinator.
Lisa hosts weekly Wednesday ITIC webinars to help educate stakeholders on how to best utilize the online ticketing software, but she can schedule webinars at any time if those set times do not work for the user. Jo also serves as Lisa's backup for hosting the ITIC webinars when needed. These webinars are completely FREE to join, so whether you're a first timer or a seasoned veteran of using ITIC, take advantage of this educational opportunity to learn something new and to ask questions!
To sign up for a Wednesday Webinar, click HERE.
Jo and Lisa are assets to GSOC who help our users better understand and utilize the online ticketing process. Feel free to contact them by emailing itic@gopherstateonecall.org or by calling 877-848-7472 to ask any ITIC questions you may have or to schedule a webinar training!