Details

Created: Friday, 06 April 2018 12:41
Written by Taylor Jones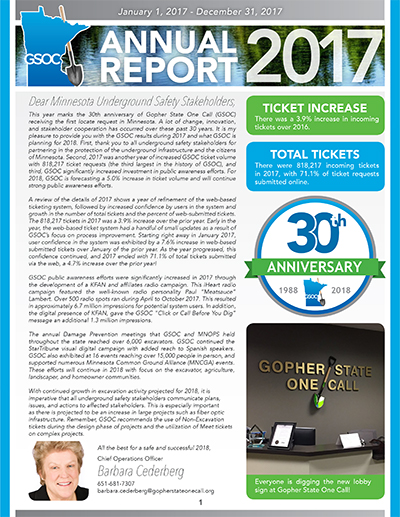 This year marks the 30th anniversary of Gopher State One Call (GSOC) receiving the first locate request in Minnesota. A lot of change, innovation, and stakeholder cooperation has occurred over these past 30 years. It is my pleasure to provide you with the GSOC results during 2017 and what GSOC is planning for 2018. First, thank you to all underground safety stakeholders for partnering in the protection of the underground infrastructure and the citizens of Minnesota. Second, 2017 was another year of increased GSOC ticket volume with 818,217 ticket requests (the third largest in the history of GSOC), and third, GSOC significantly increased investment in public awareness efforts. For 2018, GSOC is forecasting a 5.0% increase in ticket volume and will continue strong public awareness efforts.