In the rush of daily life, it's easy to forget about the massive network of buried utilities underneath us. In fact, according to the Common Ground Alliance, there are about 19 million miles of underground facilities in the United States, with more being installed every day.
These facilities provide heat, lights, sewer, water, communications and other services that homes, schools and businesses rely on day and night. Burying important pipes and cables underground helps protect them from exposure to the elements and from human-inflicted damage—which is why they need to be located and marked before anyone digs near them.
Below are some common underground utility indications that you may encounter every day as you walk, bike or drive through your neighborhood. Familiarize yourself with these landmarks and note them the next time you're out and about. (Just remember to put safety first and keep your distance from any utility equipment—and remind children to do so as well.)
Paint, whiskers or flags
Brightly colored paint, flags and/or whiskers on the ground mean that locators have been out recently to mark buried utilities in advance of an excavation. The marks may be take up large or small areas on si dewalks, roads, curbs, boulevards and lawns.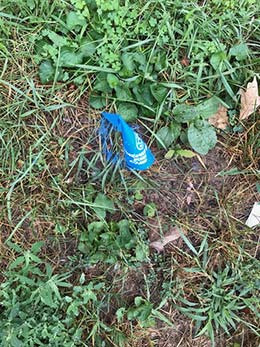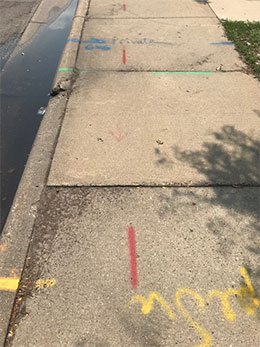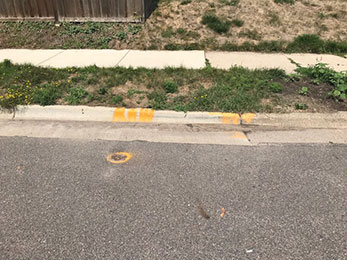 You'll be able to tell what services are underneath by using the American Public Works Association color code. In the examples above, there are marks/flags denoting buried water, gas, sewer and electric lines.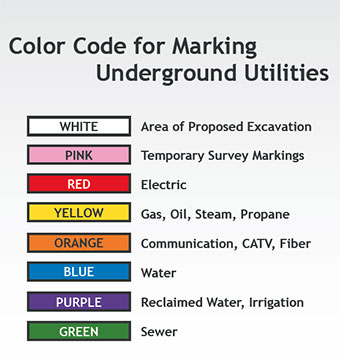 White markings indicate the area where excavation is planned. You may see white marks on their own, or alongside the above utility markings.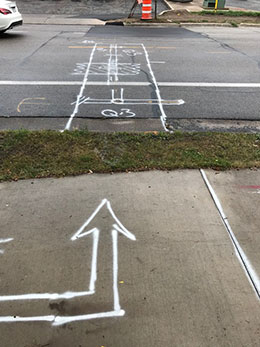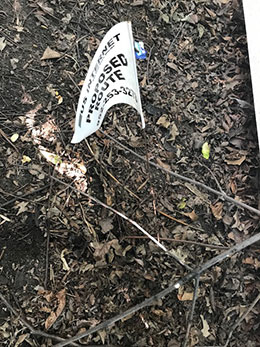 Meters and mounted utility boxes
A meter's purpose is to measure the consumption of electricity, gas and/or water, while a utility box allows technicians easy access to equipment. Either item mounted on or near a building indicates the presence of underground utilities.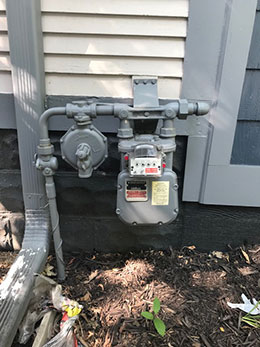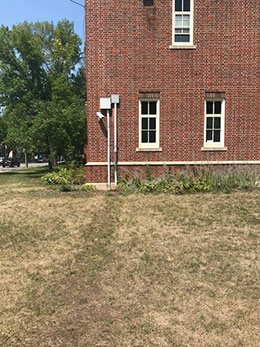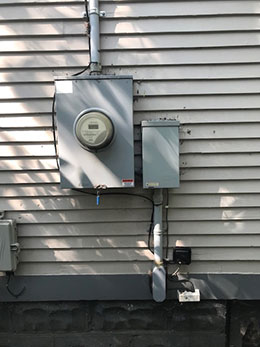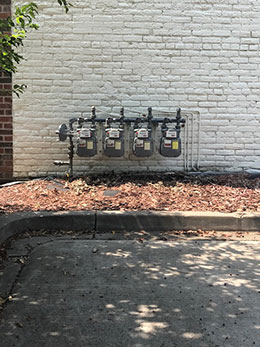 Most modern meters are located on the outside of buildings, however some older homes may have them in a basement or garage.
Signs
Gas pipelines and buried communications lines can be marked with above-ground warning signs, typically in white, yellow, orange or another eye-catching color.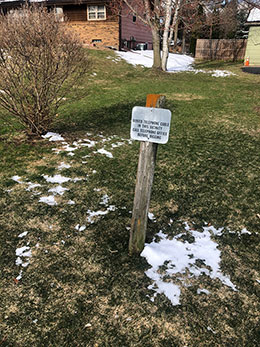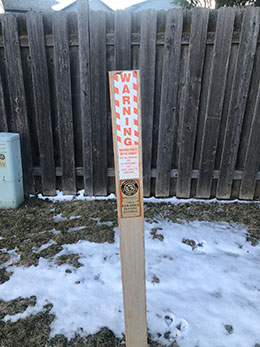 Manhole covers
Manhole covers can be round, rectangle or square. These access panels can cover many types of buried utilities. These days, fewer humans need to enter manholes, thanks to high-tech cameras that can be lowered down to inspect the lines and equipment.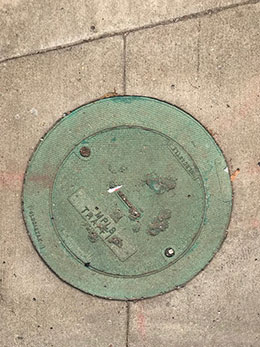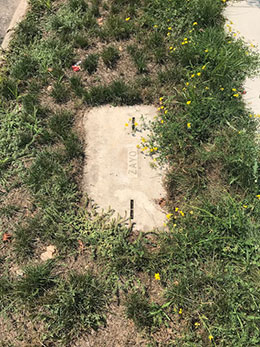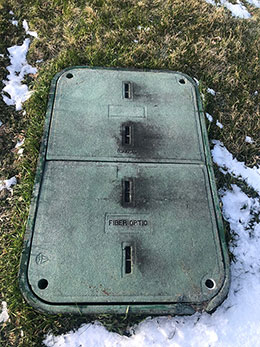 You'll probably see several manhole covers at your local gas station, where they sit atop underground fuel reserves and allow refueling trucks access to the tanks.
Other utility covers
Smaller covers such as valve covers, meter box lids and curb box lids may denote underground water or gas service or give access to equipment.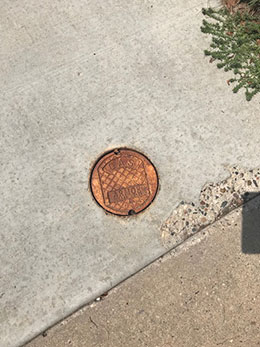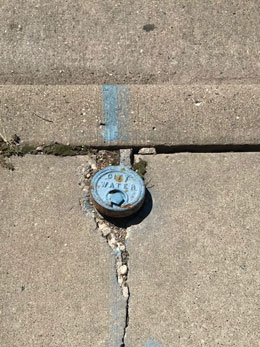 Storm drains
A grate like this indicates a network of underground sewers that drain excess rain from paved areas, roadways, sidewalks and parking lots.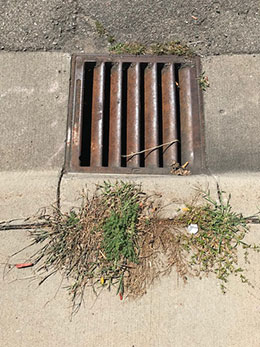 Pedestals, posts and bollards
These short, sturdy markers indicate facilities underneath. They may also double as vents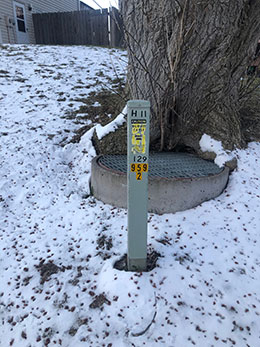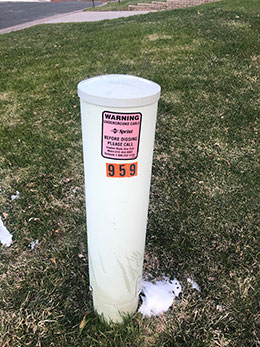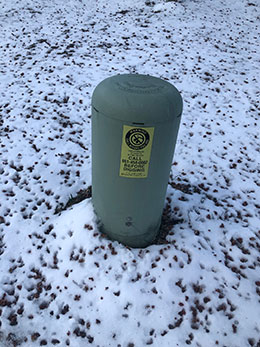 Transformers and mounted utility boxes
These large, locked metal boxes mounted on concrete platforms are quite common in urban areas. Some house transformers—the mechanisms that step down high-voltage electricity to the lower voltage levels needed for homes—and connect to underground power lines. Some contain access to flood control pumps, traffic signal controls, public transit shelter heating equipment, communications equipment and other buried facilities.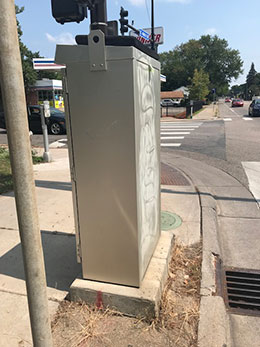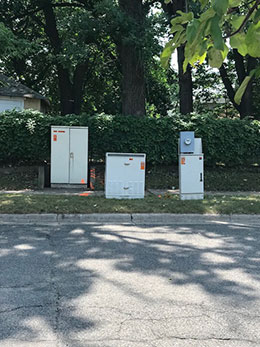 In some communities, such as Edina and Minneapolis, residents can apply to install an artist-designed wrap to beautify these metal beasts. See some examples from Minneapolis' Tangletown neighborhood here.
Transformers and electrical boxes may be located in private lawns or in boulevards, parks, parking lots and other public spaces. It's important never to touch, climb or sit on these boxes or put anything in their panels or doors—even if one is in your yard.
Overhead power lines
On some power poles, underground cables are threaded up along the pole and overhead to the next one. The cables along the pole may or may not have a cover.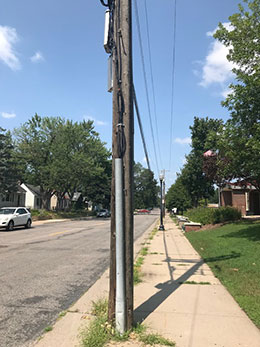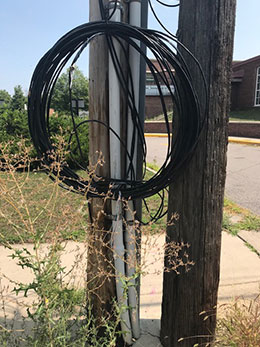 Hydrants and standpipes
Fire hydrants are above-ground pillars that allow firefighters quick access to pressurized underground water sources (thus their omnipresence in commercial and residential areas). In the United States, the color of a hydrant varies based on its gallons-per-minute flow classification, but typically they are red.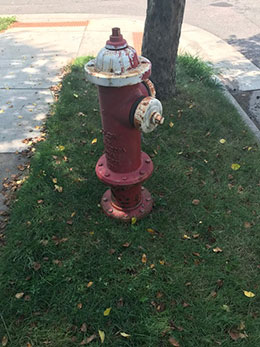 "Dry hydrants," common in rural areas, tend to look more like a pedestal. Instead of access to pressurized water lines, these hydrants connect to permanent pipes that give access to water sourced from a nearby lake or pond in case of emergency.
Standpipes are pipes built into bridges and multi-story buildings, such as apartments, offices, hotels and schools. They allow firefighters to directly connect fire hoses for access to underground water systems. You'll often see standpipes marked with a "fire department connection" or "fire department use only" sign; they may also have a pressure gauge and/or valve attached.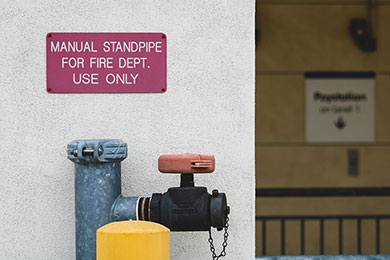 Traffic signals and streetlights
There are below-ground electrical lines that run inside a traffic light's pedestal, connecting them to equipment such as road sensors, signal controls and crosswalk buttons. Streetlights are also powered by lines that run through the pedestal.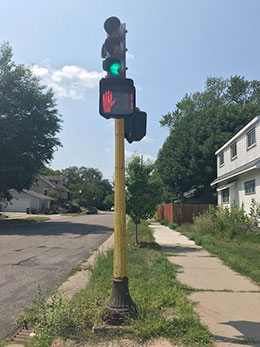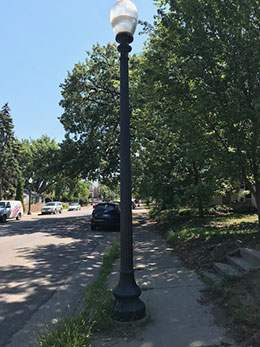 "Candy cane" pipes
These pipes vent gasses from underground sewer lines. They often confuse residents due to their odd shape, which is intended to prevent debris, water or animals from getting into the pipe. The Reddit thread "What Is This Thing" has helped many curious people solve the mystery after they've spotted these unique pipes in their neighborhood.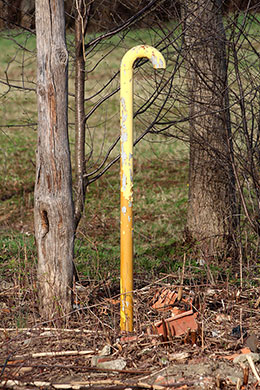 While these are all good indications of public underground utilities, remember that there can be utilities underground just about anywhere, even if there are no visual indicators above. Always contact Gopher State One Call by calling 811 or submitting a locate ticket online before any digging project to protect these services and avoid potential injury or death.
Property owners also should familiarize themselves with indications of private facilities, and have those marked by a private facility locator before conducting any excavation.