On Tuesday, July 8, 1986, a quiet neighborhood in Mounds View, Minnesota, was roused from its slumber when a wall of fire roared down that street. A mother and her six-year old daughter, shocked by the noise and obviously frightened, opened their door, stepped outside; and were incinerated. Mailboxes melted. Trees wilted. The road buckled. A third woman was severely injured. Over a quarter of a million dollars in property damage was caused. The origin of the fire: a hazardous liquid pipeline running through this neighborhood.Congressman James Oberstar (8th District) presented this chilling account of the Mounds View accident when he testified before the National Transportation Safety Board.
LEGISLATION
As a result of that horrific incident in Mounds View, the Minnesota Legislature undertook a study of pipeline safety and third party damages. Chief among the study's findings was the recommendation that Minnesota enact comprehensive damage prevention legislation. This resulted in the passage of State Statutes Chapter 216D in 1987. The legislation, co-sponsored by Representatives Daniel Knuth, Dave Bishop and Senator Steve Novak, required the establishment of a state-wide "one call" center as well as the formation of a non-profit corporation for the provision of the call center services. The call center would receive notices of intent to excavate from any person engaged in excavation activity and would in turn notify underground facility operators in the area of the excavation.
---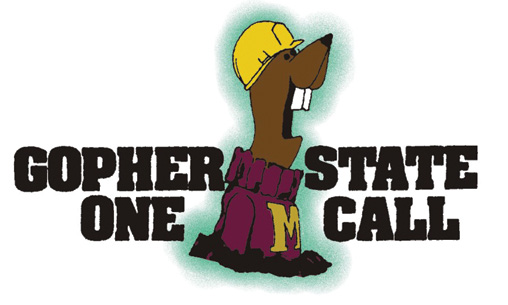 GSOC IS BORN
Gopher State One Call (GSOC) was formally approved by the Commissioner of Public Safety in 1987. GSOC has always been governed by a volunteer board of about 20 directors, representing facility operators, excavators and other persons eligible to participate in the One Call Center. The only permanent board seat designated by the legislation is reserved for the Director of the Minnesota Office of Pipeline Safety; a position subsequently merged with State Fire Marshal at a later date. The initial Board developed all of the policies and direction that much of which remains as guiding principles today. GSOC accepted its first locate request on October 1, 1988. By the end its first year of operation, GSOC had handled over 900,000 incoming requests.
---
EDUCATION
Shortly after the initial start-up, the Board of Directors initiated a Public Relations and Education Campaign. The goal was to conduct a multi-pronged outreach program that would reach all potential excavators in Minnesota, including homeowners, with the "Call Before You Dig" message. At a time when many state's one-call centers chose to de-emphasize outreach to homeowners and other "casual" or one-time excavators, GSOC's Board recognized the important role this group played in preventing damages. Radio advertising, print media and opportunities for "one-on-one" contact served as the cornerstones of this program.
The story of GSOC's history is also one of an ongoing effort to manage its responsibility and improving its users' GSOC experience. Since the center opened, Minnesotans in ever-increasing numbers are calling before they dig. In fact, Minnesota receives a higher percentage of homeowner and "casual" excavation notifications than any other state in the United States. GSOC thanks the public for this support in improving damage prevention for all people digging in Minnesota, professional excavator and casual user alike.
---
WEBSITE TICKET SUBMISSIONS
Excavator access to GSOC has changed since it began in 1988. Originally, contact between excavators and the one call center was only by telephone. Soon this expanded into fax and direct dedicated terminal communications. As the Web morphed into a viable business communications tool, GSOC expanded into web based ticket entry in 2004. In 2006, GSOC became the first one call center in the United States to offer web ticket entry for homeowners.
The acceptance and subsequent utilization of internet usage by Minnesota's facility operators and excavators alike has introduced new vistas of opportunity for GSOC and further benefits for the excavation community. Currently, over 65% of locate requests are submitted online.